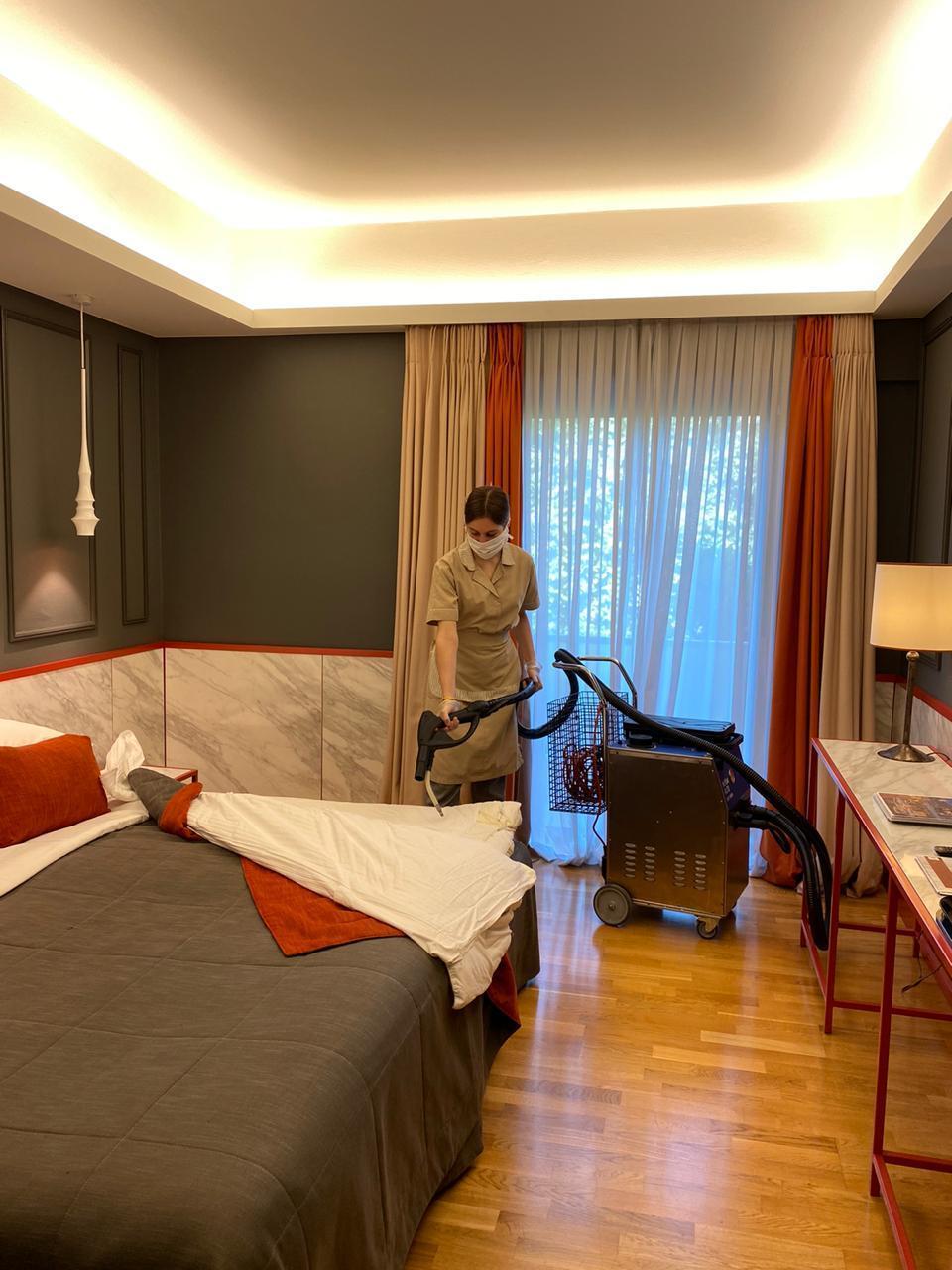 Dear Guests, Dear friends,
You trust us by choosing our Ηotels Herodion & Philippos as one of your stopovers in Athens under the sacred rock of Acropolis and we are grateful to you.
Through our long journey, over four decades now, we constantly showing Our true care for Our people, Our partners, Our friends, and Our guests. Warm hospitality, commitment, and respect to the strong bonds developed over the years, pervade its stance towards the community.

This is why we wanted to inform you of how we are handling the unprecedented Covid-19 crisis.

Today, like the rest of the world, we face an unprecedented situation, even if Greece had successful management of this crisis, which is now internationally recognized.
Most of our establishment are now open and Our top priority is Your safety and that of Our employees.

We are therefore implementing exceptional sanitary measures in all of the Hotel's services to ensure you stay in the best conditions.
In all common spaces as well as anywhere else required within the Hotel, we have installed dispensers, as well as special guidance signs about Covid-19 with instructions on safe distance keeping, general hygiene rules and respiratory etiquette.
In our Hotels we have set up a special Management Team, a Covid-19 action plan, to safeguard our facilities and protect the health of our guests and employees. The team provides the staff training and oversees the comprehensive implementation of the health and safety standards, supervises the deep cleaning and disinfection of the rooms as well as the frequent use points in all common areas.
Our Check In process is changing and will be online, while the rest of the Reception Services will be performed with minimum client contact, keeping safe distances and using all necessary personal protection equipment. For this reason, we have also installed a glass divider.
We suggest payments are made with credit or debit cards instead of cash as well as sending electronic copies of invoices and receipts.
Our Check Out time is changing to 11am and our Check In time will now be at 3pm so that we can perform all the necessary deep cleaning and disinfection the rooms require and adhere to the highest safety standards.
The room keycard will be provided by the Reception. All room keycards are disinfected and placed in a special case.
The usage and resupply of the Mini Bar will be suspended.
To avoid overcrowding only two people are permitted in the Hotel elevators at a time. The elevator platforms are cleaned thoroughly and regularly throughout the day.
Our Food Departments are compliant with all the rules of the international ISO22000 and HACCP standards.
The Hot Tubs on 4th floor will operate with some restrictions, as they will need to be cleaned following a tight schedule and using special cleaning agents necessary for disinfection. Special rules are in place for the lounge chairs on the hot tub deck. Temporarily and due to health and safety reasons we will not be offering any massage or spa services.
Safety measures according to NHPO health protocols.
Any suspected infection case will be handled per the mandatory National Health Public Organization health protocol. We are required to keep a file – specifically and bindingly for Covid-19 related usage-of all individuals that stayed in our hotels. The file must contain the following information: Name and Surname, Dates of arrival and departure, nationality, full contact details (address, phone number, e-mail) so that the government health department can trace back any infected cases that are retrospectively identified.
Our Hotels collaborate with a private doctor on retainer, who will be notified in the case of a suspected infection. Any guest that is a suspected case will not have the option ability to refuse the disclosure of his data or informing the doctor. The doctor will be acting upon the instructions of the National Health Public Organization regarding the control of Covid-19, while at the same time they will have possibility of monitoring the suspected case and its close contacts via telemedicine (provision of remote clinical services, via real-time two-way communication between the patient and the healthcare provider). In case the doctor remotely decides to visit in person the patient/guest, then a private visit and a certified Covid19 test will be performed and collected.
In the case of a confirmed Covid-19 infection, the patient/guest stays restricted isolated until transferred following the NHPO guidelines.

For any further clarifications or questions, please do not hesitate to contact directly with our team at the following e-mail address: reservations@herodion.gr
At H&P Hotels & Restaurants, we believe that in difficult circumstances such as these, high-quality and secure hosting is even more necessary. Consequently, in these times, we will do our utmost to meet all of your needs and support H&P's Family of Guests and Employees.
We assure you that when this distressing era comes to an end, All of Us will be here, remaining a desirable destination, with H&P's signature of quality.
The H&P's Hotels and Restaurants family is ready, as always, to welcome you with confidence and our signature hospitality.
We look forward to seeing you again.
Kindest regards,
Anastasia & Katia Tsimidopoulos
H&P Hotels & Restaurants
Hotels Herodion & Philippos
Atrium Greek Bistrot
Gargaretta All Day Street Bistrot