Our special offers
Winter Special
Stay 3 or more consecutive nights and save 10%.
Christmas Package
Make this festive season to remember with a fantastic festive break at Herodion hotel.
Romantic Package
Experience an unforgettable stay with your loved one at Herodion hotel, ideally located at the slopes of Acropolis in the most romantic area of Athens.
Museum Package
Special Museum Package with free tickets for the New Acropolis museum and Lalaounis Jewelry museum
Fine Dining
Enjoy a 10% discount for one dinner at our "Atrium Greek Bistrot" or at "PoiNT a" rooftop bar and restaurant (depending seasonality) where our chefs Manolis Mavrigiannakis and Marios Pirpiridis will take you to a culinary journey through modern creations and traditional flavors.
*During winter/spring (from November up to mid May) dinner is served at "Atrium Greek Bistrot"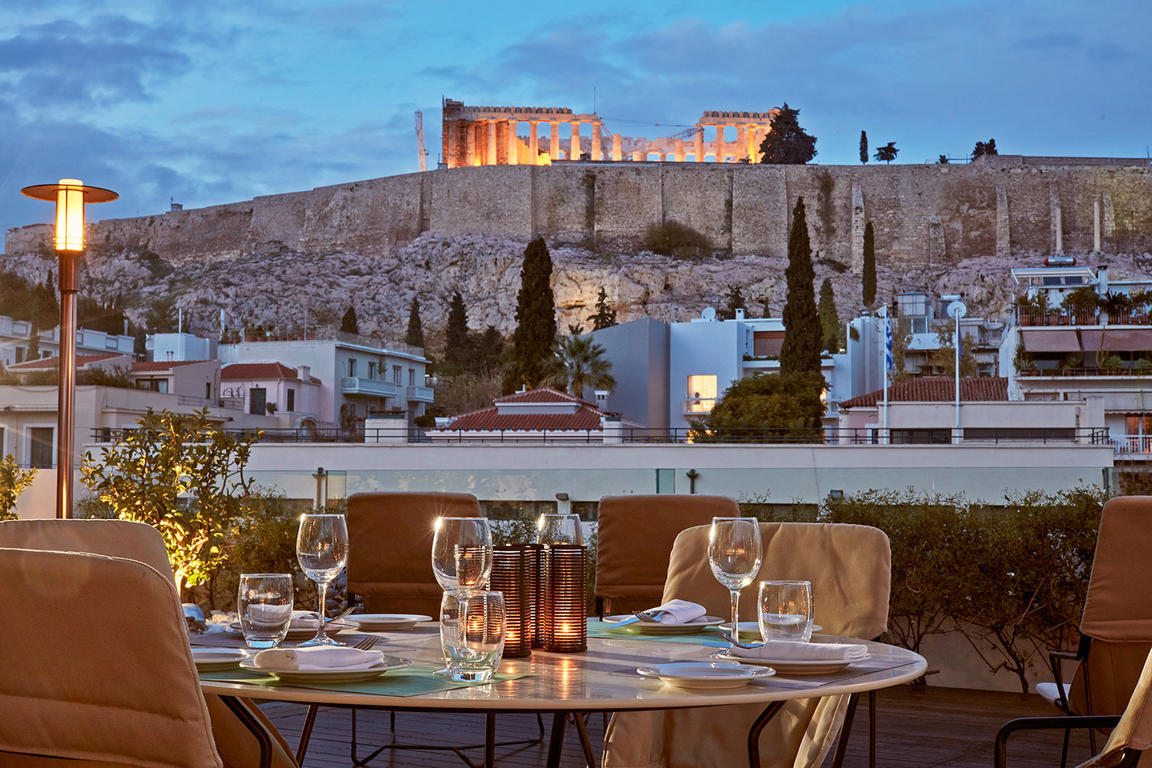 Art Encounter at POINT a: Part 1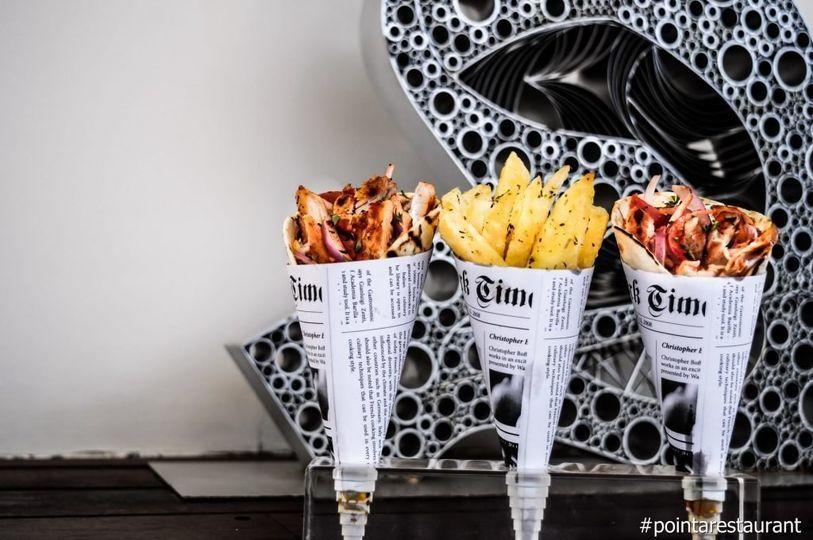 Visiting a fantastic art gallery can open the mind and feed the creative soul within us. That's why at POINT a, we combined the atmosphere a great gallery offers with our gourmet cuisine.
By blending gastronomy with creativity, we think there's incredible potential to redefine the Athenian dining experience. In our Art Encounter series, we introduce you to the artists and art galleries we collaborate with to add a unique touch to the ambience of our restaurant and hotel.
Art Encounter with El. Marneri Gallery
In Part 1 of our Art Encounter series we sat down with Eleni Marneri, the founder of the El. Marneri Gallery to talk about the inspiration behind the collaboration and the recent trends in global art.
Your gallery's works are exhibited at the POINT a Bar and Restaurant. What inspired the collaboration and how did it come together?
I believe that Herodion Hotel is one of the most important and beautiful spots in Athens. It is a place where I can relax and enjoy the atmosphere and aura of a historical neighborhood, which in my opinion is the most beautiful in the city. Moreover, Herodion hotel is owned by two lovely owners, Katia and Anastasia Tsimidopoulos. I strongly admire them and I share the same values and views about Athens as well as what the city should be like in the future.
What are some of the highlights of El. Marneri Gallery and how do you decide on which artists to collaborate with?
The gallery has been active for over two decades. It was the first space of its kind in Greece, the first gallery to be entirely dedicated to showcasing and promoting contemporary and art jewelry. The identity of our space was built over the years by our unique choices of artists whose work has to be, first of all inspiring! It has to be characterized by freshness, aesthetics, quality of materials and technique, completing and expressing the concept of the artist himself. Contemporary art jewelry itself, whether it is applied in art form, microsculpture, or craft, is above all a form of wearable art that adorns the body and is an eloquent means of self-expression not only for the artist but also for the wearer. As such it is an art form that is woven tightly into the fabric of everyday life.
At the same time, this philosophy that envisions art's infiltration into everyday life is also suggested in a series of products of rare utilitarian and aesthetic value available at the gallery, such as the exquisite skincare products and soaps of Officina Profumo Farmaceutica di Santa Maria Novella, one of the world's oldest pharmacies which was established in Florence in 1612, Greek Baruti perfumes, French Geodesis candles with scents that travel around the world, as well as award-winning Greek brands, modern souvenirs, SOPHIA Homeware and Stationary items and more.
How did you choose which sculptures would best suit the environment of POINT a?
Among all my collaborators, I have chosen the sculptor Christina Kellidi to exhibit in the Herodion Hotel because of her linear organic forms as well as her excellent use of metal and paper accordingly. Her inspiration from classic lines, shapes and textures that exist in nature, in my opinion, suit perfectly with the aesthetics and culture of the Herodion Hotel. I am very satisfied with the final result. About Christina Kellidi
Christina Kellidi was born in 1958 in Sofia. She completed her studies at the Academy of Fine Arts in Sofia, under the guidance of Professor M. Varbanov and Professor V. Ovcharov (1980-1985). From 1985-1989 she worked as a designer in the Center of Development and Application of Fashion Design "Rilla". From 1989 to 1991 Christina held the role of editor-in-chief of the fashion magazine Lada. Since 1991 she lives and works in Athens.
She has participated in numerous solo and group exhibitions in Sofia, Madrid, Morocco, Switzerland and Athens.
How do you decide which sculptures will appeal to diverse cultures?
When artworks are well situated and displayed in the right environment, this will send the right message and deliver the desired result. Harmony and balance speak many languages and can touch many different people of diverse cultures.
What are the current trends in the global art, in your opinion?
Art reflects more and more the inequalities and the problems of our society and times. Use of progressive technological tools. The scale is getting bigger. (Performance art, installation art, conceptual art.)
What do you think makes art timeless?
Art has always been committed to the changes of times, the changes of eras and the values, concepts and characteristics of each time. By better understanding the ways in which the world is established and operates around us, we can understand more deeply something about ourselves and the place we hold in the world.
What is your opinion on contemporary art?
Contemporary art is here to observe the relationship between art and the human, social and political aspects of the world, as well as external forces and phenomena threatening the rise against all these aspects. Within this context, there is much room for philosophical reflection, social observations, sensory experiences, politics and many other ways, attitudes and behaviors which employs the art of the 21st century in an effort to manage the present and the future. Observing and better understanding contemporary art is a way to open our eyes to what is happening today.
Art Encounter and More at POINT a
Have you see the three sculptures by Christina Kellidi at POINT a? We hope that you enjoyed the introduction to our Art Encounter series. Stay tuned for the next interview coming up soon.
Back to list
Our instagram feed