Our special offers
Christmas Package
Make this festive season to remember with a fantastic festive break at Herodion hotel.
Romantic Package
Experience an unforgettable stay with your loved one at Herodion hotel, ideally located at the slopes of Acropolis in the most romantic area of Athens.
Museum Package
Special Museum Package with free tickets for the New Acropolis museum and Lalaounis Jewelry museum
Luxury Experience
Book a Junior Suite (minimum stay 2 nights) and enjoy one freshly made house cocktail per person per stay at our PoiNT α Roof Garden Bar which offers a glamorous al fresco bar experience in Athens. This luxurious outdoor space with minimal decoration and its unrestricted view of the Acropolis, entraps you with its changing moods while you are watching all the stages of preparation of your cocktail from our professional bartender.
Fine Dining
Enjoy a 10% discount for one dinner at our "Atrium Greek Bistrot" or at "PoiNT a" rooftop bar and restaurant (depending seasonality) where our chefs Manolis Mavrigiannakis and Marios Pirpiridis will take you to a culinary journey through modern creations and traditional flavors.
*During winter/spring (from November up to mid May) dinner is served at "Atrium Greek Bistrot"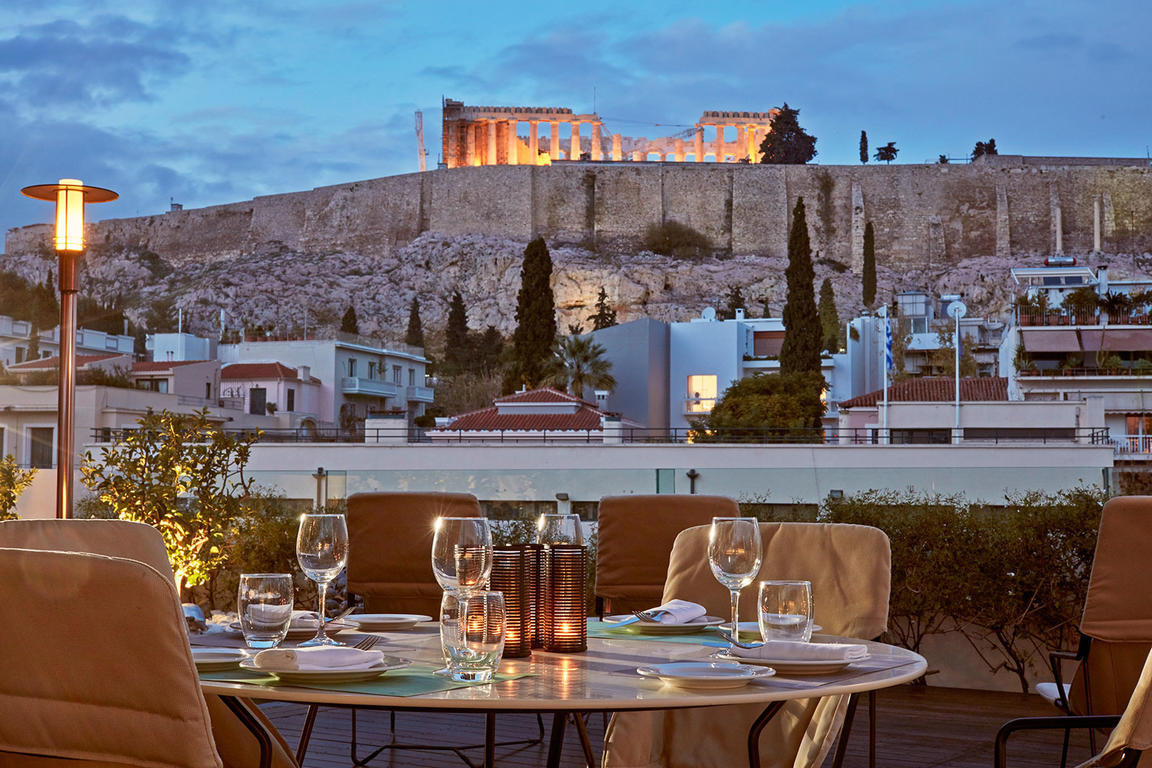 Art Encounter at POINT a: Part 2
Timeless art often carries hidden message, one that can be indirectly linked to the world around us.
Effective art makes makes us use our imagination to embark on a kind of artistic journey. At POINT a, we love the importance of the meaning art brings to our everyday lives. That's exactly why we tie it to our menu of gastronomic tastes and our refreshing cocktails.
Art Encounter with Technohoros Art Gallery
In our Art Encounter series, we aim to bring you closer to the artists that have touched us. For Part 2 of this blog series, we sat down with Electra Douma, founder of Technohoros Art Gallery. She talked to us about the inspiration behind the collaboration and the important elements of turning a space into a live art gallery.
Your gallery's works are exhibited at the POINT a Bar and Restaurant. What inspired the collaboration and how did it come together?
The cooperation between Technohoros Art Gallery, Herodion Hotel and POINT a Bar and Restaurant can be best described as long-term and valuable. Located in one of the most remarkable neighborhoods of Athens, the view that one will encounter visiting POINT a is unique. The space and location create an ideal setting which is both artistic and visual — displaying the artwork in such an environment seems almost self-evident. The hotel owners are art lovers and we met them during their visit to our gallery.
The initial idea was born during our dinner at the restaurant, where we half-jokingly agreed that the space is without a doubt ideal for hosting an art exhibition. A few days later we began our artistic collaboration which involved selecting and placing works that outlined an entire spectrum of visual arts.
The artwork, especially the sculptures at POINT a, perfectly blend in with the rest of the space just after a few days of finding their new home. The guest will not feel like they came to attend an exhibition, however, while enjoying their food or drinks they do get the feeling of being present in a sculpture exhibition. This is a great example of how we can integrate art into our daily lives.
What are some of the highlights of your Gallery and how do you decide on which artists to collaborate with?
From the first days of its operation, Technohoros Art Gallery has cooperated with renowned artists from Greece and abroad, while at the same time we strongly believe in supporting and giving a "voice" to the new emerging and promising artists.
It gives us tremendous pleasure and honor to have been trusted with works of great artists such as Constantinos Xenakis, Aria Komianou, Peter Zouboulakis, Stathis Vatanidis, Michalis Katzourakis, Kostas Varotsos, Angela Occhipinti as well as those works of important artists who have passed away, such as Vaso Katraki, Alexis Akrithakis and Vlassis Kaniaris. These people are the building blocks who are responsible for the development of visual arts in Greece and Europe.
At the same time, we are very grateful for the young artists who choose our gallery to take their first career steps and make their first contact with art lovers. Visual arts in Greece have a great number of new representatives, many of whom have managed to impress the audiences and critics from the start. From the youngest, our collaborations with artists such as Sarantis Gaga, Nikolas Antoniou, Dimos Kipouro, Thodoris Lalou, George Korbakis and Aphrodite Grizi reminds us daily that the visual arts in Greece, despite the difficulty of the times, have a very good basis and may lead to their perpetual evolution. This is just an example of the few artists who make up the team of Technohoros Art Gallery, represented by a large group of artists covering the artistic palette and desires.
How did you choose which sculptures would best suit the environment of POINT a?
Selecting suitable artwork to compliment a space or to compose an exhibition — is always a bet for us. When it comes to a solo exhibition, the artist plays the central role, and in cooperation with the gallery and the creative director decides on the theme of the exhibition. Beyond that, the choice of existing works or of those created exclusively for the exhibition, is a natural process. In this particular exhibition, the main objective was the space itself which dictated the nature of the exhibition, guiding us in selecting sculptures. Secondly, the layout of POINT a and the Sacred Rock of the Acropolis which stands proudly across, guided us to focus on the artists and works that exude something more earthy and classic without necessarily losing the sense of modern and perpetually topical element.
When you visit the exhibition you will get the impression that the works were created after the artists had seen the space and that each artwork has found its perfect place. The truth is that we held several discussions with the team of the hotel, we visited POINT a on several occasions and spoke with many artists who explained to us the rationale behind their work.
The works were gradually selected in an attempt to establish a link between them in order for the exhibition to emit cohesion and harmony, both in relation to the works, the environment and the people. Our goal was to have the artwork blend in with the space, to harmonize with the environment and for the visitor to comprehend these works of art as an integral part of the surrounding space.
How do you decide which sculptures will appeal to diverse cultures?
We see art as a single character and not something which is completely different in every part of the world. Art has common features, depending on the period of time, as well as variations which depend on the geographical and social environment in which it develops.
Even different cultures have elements that unite them, interactions that are crucial for their development and similarities or stories which apparently cannot be understood at first. Artists are people who travel, dream and explore — they never just focus on the elements of their own place or culture. They adopt elements of other artists and assimilate them in their work by presenting them as they see it from their own perspective. This means that all artists have incorporated many different elements in their work and the audience is privy to different cultures.
On the other hand, the Greek culture and mythology have greatly affected the development of both the European and world culture. The sculptures which we have chosen for POINT a have a clear reference to Greek elements, such as Elia by Constantinos Valaes or Clotho by Nota Tsitoura, their features are well recognized by people from every part of the world and are those that they want to see and learn about.
Sculptures at POINT a
There are a few impressive sculptures which you can admire at POINT a other than the artists mentioned previously. The Fish ball by Yorgos Kypris is creation in which the artists uses fish as a symbol through which he puts through his concern about the senseless killing and the overexploitation of natural resources. He expresses his worry about the future of the natural environment. His sculpture has found its place happily next to our water fountain.
Next to the Fish sits the creation of Myrto Vratsanou, shiny turtles called the Habitat. The turtle is generally used in various cosmogony mythologies and functions as a symbol of time. It is an animal which is linked to longevity. The shells of these turtles are smooth, thus they become timeless, exaggerating their perennial nature, since a turtle's age is usually revealed by the shape of their shell. Touch the shell and your will feel like time has slowed down.
The olive tree Elia by Constantinos Valaes symbolizes peace, protection and fertility. Through the use of bronze the artist is trying to incarnate and to transform the virtues of this tree into material, confirming its sustainability and its role in the lives of the people of the Mediterranean Sea.
The Figure by Dimitris Tsirogiannis presents an experimental attitude with various expressive quests from traditional, originator and monumental forms till modern, geometrical, subtractive and constructivist compositions. In his sculpture the human figure is implied and overemphasized through the power of its mass.
We hope that you found our Art Encounter series inspiring and educational. Have you visited our gallery?
Back to list
Our instagram feed